Embracing Love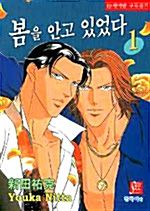 Product Description
Korean Title:
Bomeul Ankko Isseotda
Author: Youka Nitta
Publisher: Hyundai
188*128mm
Important! Please read before you order!
>>>This book is written in Korean.
About This Book

"It's a yummy manga."-SequentialTart.com

"A bumpy ride... one I'm happily strapping in for."-AnimeOnDVD.com

"Adds a voyeuristic edge to the fictional man's world."-GameSpot.com

EMBRACING LOVE is a lighthearted romantic comedy that lampoons the adult film business, the mainstream media, and the natural vanity of actors while exploring the earliest stages of a brand new relationship.

Youka Nitta is one of the most popular yaoi creators due to her beautiful illustrations, intense characterizations, and graphic sexual depictions. In February 2006, Nitta traveled to the United States for the first time to meet her American fans and to autograph copies of Embracing Love. She hails from Fukui Prefecture in municipal Tokyo.


Availability: Usually ships in 5~10 business days.