Bailingol Edition Korea's leading novel 110-6 :South and North(5 volumes in total)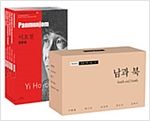 Product Description
Title: Bailingol Edition Korea's leading novel 110-6 :South and North(5 volumes in total)
Korean Title:바이링궐 에디션 한국 대표 소설 세트 110-6 : 남과북 - 전5권
Author: Yi Ho-chol,Ha Geun-chan,Nam Jung-hyunJeong Do-sangKim Ha-kee
Publisher: Asia Publisher
ISBN: 9791156620945
100 page /115 * 188 mm
Important! Please read before you order!
>>>This book is written in Korean.
About This Book


남과 북South and North

26 판문점-이호철 Panmunjom-Yi Ho-chol
27 수난 이대-하근찬 The Suffering of Two Generations-Ha Geun-chan
28 분지-남정현 Land of Excrement-Nam Jung-hyun
29 봄 실상사-정도상 Spring at Silsangsa Temple-Jeong Do-sang
30 은행나무 사랑-김하기 Gingko Love-Kim Ha-kee

The set of this novel is a story after division. three years of war and seventy years of truce Under the Cold War regime, the Korean Peninsula has become the front line of the Cold War and is still sensitive to domestic and international situations.
The division was an important window and test bed for writers to explore the wide-ranging exploration of contradictions in Korean society and their willingness to overcome them.




Availability: Usually ships in 5~10 business days.