Crying in H Mart: A Memoir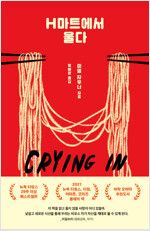 Product Description
Title : Crying in H Mart: A Memoir
Korean Title : H-Mart e seo wool da
Author : Michel Sauner
Translate : Jeong Hye - yoon
Publisher : Munhak-dongne
ISBN : 9788954683371
408 page /130 * 200 mm
Important! Please read before you order!
>>>This book is written in Korean.
About This Book


The story of author Michel Sauner, born to a Korean mother and an American father, begins with the sentence, "After my mother died, I only cry when I go to H Mart.
" Influenced by her mother, she had been exposed to Korean language, Korean culture and Korean food since childhood, but she used to wander in the ambiguity of her identity without being able to give a clear answer whether she was American or Korean. While maintaining the inseparable mother-daughter relationship, on the one hand, he could not understand her mother's way of thinking, and he went through a time of mourning, parting, and battling her mother's cancer.
He fully accepts and understands everything he has left for him.




Availability: Usually ships in 5~10 business days.