Easy Korean for Foreigners 1A (w/ CD)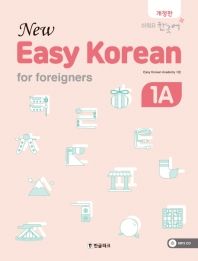 Product Description
Korean Title:
Shwiwoyo Hangugeo
Author: Easy Korean Academy
Publisher: Language Plus
ISBN : 9788955186017(8955186010)
252 pages 210 * 277 * 16 mm /739g
About This Book

This new edition of the beloved <Easy Korean for Foreigner> series now comes with English, Japanese, Chinese and Vietnamese translation for classroom terms, vocabulary, sentence pattern explanation and appendix.

Description for the previous Easy Korean for Foreigner series:

This textbook is intended to teach the students after they have acquired familiarity in pronunciation of Korean alphabets both in consonants and vowels. The textbook consists of 20 lessons and "CD" mark has been designated at a place where the content of text is being listened to.
This textbook was compiled for in-class teaching materials faithfully reflecting the needs of those who want to study Korean language by teaching the language in such a way that it is easy and interesting based on the experiences of teachers who have been teaching Korean language at various Korean language institutes.
The textbook is incorporated with overall aspects of Korean life reflecting the natural and lively situations in which conversations are spoken by providing as minimum rules of grammar as possible so that the students of this textbook can easily be familiarized with the language through the exercise of sentence patterns.
A special emphasis has been put on the improvement of conversation skill and the students' ability to manage under the given situations through promotion of interaction in educational objective and actual implementation of teaching the language to be considered.
This textbook tries to cover most of the elements of teaching the language with impartiality to achieve a status of leading teaching materials for Korean language. By studying the lessons on this textbook successfully students will be familiarized with both accuracy and fluency.


Availability: Usually ships in 5~10 business days.