Essence Korean-English Dictionary (Deluxe Edition)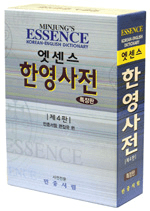 Product Description
Author: Minjung Sorim Editorial Dept.
Publisher: Minjung Sorim
3032 pages | 235*170mm | Thumb Indexed
About This Book

Published in January 2006, this Deluxe Edition of the best-loved Essence Korean-English Dictionary comes in bigger size book and in larger fonts. Also this edition is updated with new vocabulary including the latest computer terminology, and contains a variety of practical idioms and sample sentences. Covers over 100,000 keywords.


Availability: Usually ships in 5~10 business days.