Letter to My Daughter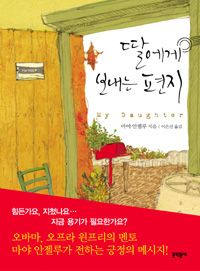 Product Description
Korean Title:
Ttarege Bonaeneun Pyeonji
Author: Maya Angelou
Translator: Eun-seon Lee
Publisher: Munhakdongne
Hardcover| 164 pages | 190*140mm
Important! Please read before you order!
>>>This book is written in Korean.
About This Book

Dedicated to the daughter she never had but sees all around her, Letter to My Daughter reveals Maya Angelou¡¯s path to living well and living a life with meaning. Here in short spellbinding essays are glimpses of the tumultuous life that taught Angelou lessons in compassion and fortitude: how she was brought up by her indomitable grandmother in segregated Arkansas, taken in at thirteen by her more worldly and less religious mother, and grew to be an awkward six-foot-tall teenager whose first experience of loveless sex paradoxically left her with her greatest gift, a son.

Whether she is recalling lost friends such as Coretta Scott King and Ossie Davis, extolling honesty, decrying vulgarity, explaining why becoming a Christian is a ¡°lifelong endeavor,¡± or simply singing the praises of a meal of red rice, Maya Angelou writes from the heart to millions of women she considers her extended family.

About the Author
Poet, writer, performer, teacher, and director, Maya Angelou was raised in Stamps, Arkansas, then moved to San Francisco. In addition to her bestselling autobiographies, beginning with I Know Why the Caged Bird Sings, she has also written a cookbook, Hallelujah! The Welcome Table, and five poetry collections, including I Shall Not Be Moved and Shaker, Why Don¡¯t You Sing?


Availability: Usually ships in 5~10 business days.