Mindfulness in Plain English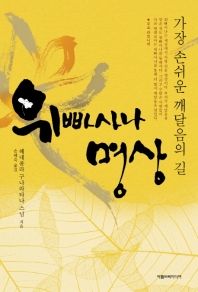 Product Description
Korean Title:
Vipassana Myeongsang
Author: Bhante H. Gunaratana
Translator: Hye-sook Son
Publisher: Arumdri Media
ISBN : 9788955825329(8955825323)
268 pages | 223*152mm
Important! Please read before you order!
>>>This book is written in Korean.
About This Book

This step-by-step guide to Insight Meditation is truly practical and direct. This new edition includes the complete text of its best selling predecessor and a new chapter on loving-kindness, an especially important subject in today's fractious world.

Venerable Henepola Gunaratana was ordained at the age of 12 as a Buddhist monk in Sri Lanka. He earned his Ph.D. in Philosophy from The American University, and has conducted meditation retreats, taught courses on Buddhism, and lectured widely throughout the United States, Canada, Europe, and Australia. --This text refers to an out of print or unavailable edition of this title.

If you'd like to read about meditation and then go back to your regular life, don't get this book. Henepola Gunaratana, a monk from Sri Lanka and venerated teacher of Buddhism, warns us that vipassana meditation is "meant to revolutionize the whole of your life experience." In one of the best nuts-and-bolts meditation manuals, he lays out the fundamentals of basic Buddhist meditation, the how, what, where, when, and why, including common problems and how to deal with them. His 52 years as a Buddhist monk make Mindfulness in Plain English an authority on a living tradition, and his years of teaching in America and elsewhere give it the clarity and straightforwardness that has made it so popular. If you'd like to learn the practice of meditation, you can't do better. --Brian Bruya

"Of great value to newcomers...especially people without access to a teacher." --Larry Rosenberg, Director, Cambridge Insight Meditation Center

"A masterpiece. I cannot recommend it highly enough." --Jon Kabat-Zinn, author of Wherever You Go, There You Are


Availability: Usually ships in 5~10 business days.