Notes Left Behind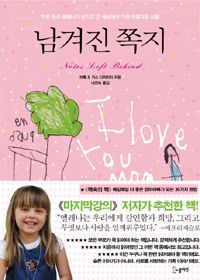 Product Description
Korean Title:
Namgyeojin Tzokji
Author: Brooke Desserich, Keith Desserich
Translator: Seon-sook Na
Publisher: Novel Mine
304 pages | 210*150mm
Important! Please read before you order!
>>>This book is written in Korean.
About This Book

Elena Desserich dreamed of becoming a teacher. Although her time on this earth was far too short to fulfill her dream, she left behind an enlightening lesson plan on life. Wise beyond her years, Elena never stopped teaching those around her to appreciate the miracle of everyday living even as the innocent six-year-old battled a rare form of brain cancer.

Through personal and candid journal entries written as a remembrance for Elena's younger sister, Brooke and Keith Desserich share their emotional journey as they negotiated their contradictory impulses to fight Elena's cancer at all costs and realized the inevitable outcome. Page by page, this journal is a reminder to parents everywhere to appreciate and savor every precious moment they have with their own children.

Notes Left Behind tells a story of humility and inspiration. From the time of her diagnosis, Elena accomplished a truly spectacular series of wishes, big and small, that she alone created, from riding in a horse-drawn carriage to painting a masterpiece that would hang in an art museum. Her life motivated the creation of the foundation, The Cure Starts Now, which today helps children everywhere in their fight against cancer. The authors' proceeds from the sale of this book benefits this foundation.

Included in the pages of this book are Elena's private messages that she secretly hid around her home, knowing her family would find them when she was gone. These notes show us how even during the darker moments of life, it is possible to find hope and encouragement through selfless love.


Availability: Usually ships in 5~10 business days.