The Omen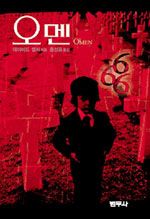 Product Description
Korean Title:
"Omen"
Author: David Seltzer
Translator: Seong-pyo Hong
Publisher: Beomusa
318 pages | 223*152mm
Important! Please read before you order!
>>>This book is written in Korean.
About This Book

A young nurse hangs herself for the sake of a small boy....A priest is speared to death for revealing the horrifying truth about the child's birth...A world-renowned diplomat and his wife are stalked from Rome to London to Jerusalem by the son they once thought was human. A terrifying new shocker of supernatural evil, THE OMEN blend startling facts with the compelling fiction into a thriller as forceful and frightening as ROSEMARY'S BABY and THE EXORCIST. Each thrilling page probes into and age-old prediction of doom for humanity. In what sinister way will the Earth meet its fateful end? Will the master of darkness be able to carry out his malevolent plan to enslave the souls of all mankind? Will the one mortal who knows of his presence be able to dispel the evil in time to save the world from everlasting damnation? Sure to send chills down the spines of even the most hardened readers, THE OMEN will long be lauded as a masterpiece of pulse of pulse-pounding suspense and monumental horror.


Availability: Usually ships in 5~10 business days.