Pinkfong Sound Book Hangul Bag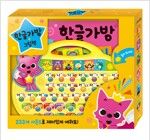 Product Description
Title: Pinkfong Sound Book Hangul Bag
Korean Title: 핑크퐁 사운드북 한글가방
Author: ditorial department
Publisher: Samsung Publishing House
ISBN: 8809256423340
18 page /327 * 290 * 65 mm
Important! Please read before you order!
>>>This book is written in Korean.
About This Book


There are 40 convex three-dimensional buttons in the shape of a bag that children love!

This is the first Hangul sound book for children who are just starting to learn Hangul to learn letters easily and in a fun way.
There are 40 three-dimensional convex buttons in the shape of a kid-friendly bag. When the button is pressed, the twinkling light catches the child's attention. There are 6 modes to increase interest in Hangul, including single characters, words, sound effects, and games. Move the slide arrows to change modes.
You can learn Hangul in the Korean alphabet and word games, and review what you have learned through quizzes in each game mode.
I also composed a picture book with the same shape as the Hangul bag. It is decorated with pictures to help understanding and large letters to help children learn Korean.




Availability: Usually ships in 5~10 business days.