Porong Porong Pororo The Coolest Train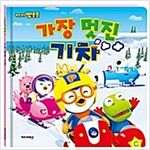 Product Description
Title: Porong Porong Pororo The Coolest Train
Korean Title: 뽀롱뽀롱 뽀로로 가장 멋진 기차
Author: Kids Icon Editorial Departmentl
Publisher: Kids Icon
ISBN: 9788964133606
36 page /255 * 255 mm
Important! Please read before you order!
>>>This book is written in Korean.
About This Book


When Eddie wins first place on a new sled, other friends make a nice sled and play again.
But my friends' sled keeps breaking down.
Can Pororo and his friends reach the finish line safely?




Availability: Usually ships in 5~10 business days.