Rooftop After School (Region-3 / 2 DVD Set)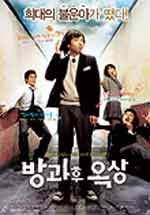 Product Description
Korean Title:
Banggwahu Oksang
Starring: Bong Tae-Gyu, Kim Tae-Hyun, Jeong Gu-Yeon
Director: Lee Seok-Hun
Studio: Cinema Service
Rating: 15+
Genre: Comedy
Important! Please read before you order!
>>>This DVD is encoded for Region 3 (Southeast Asia & East Asia --- including Korea & Hong Kong). This DVD will NOT be viewable on regular DVD players made in other regions unless they are code-(region-)free DVD players. To learn more about the DVD Region Code, please visit our Help Page and read Info on DVD Region Code.
About This DVD

It's just one of those days when bad turns to worse!

The Natural Born Loser
For Koong-dahl, nothing has gone right during his entire life. Even the space between his last and first name had him stuck with the rather dopey-sounding 'NAM Koong-dahl' than his properly pronounced name, 'NAMKOONG Dahl.' In attempts to rid of his 'loser streak,' he signs up for a year- long psychological therapy program which he immerses himself into, full gear.

From Reject to Rehabilitated…or maybe not?'
Right out of the clinic and with high hopes for the future, Koong-dahl makes a fresh start into the high school battlefields by transferring to Kongmoon High which suggestively goes by the name, Komoon High(meaning 'Torture High' in Korean) among students. There he meets his therapy clinic classmate, Yamseng(translated as cheeky monkey) who claims to have perfectly adjusted to high school life. The 'Action Plan for a well-rounded school life' he passes on to Koong-dahl is none other than to get his claws into any weaker-looking prey and establish himself as the stronger one !

Determined to practice the teachings of his friend, Koong-dahl finally manages to spot some losers who were bullying the school's gorgeous heartstopper, Min-ah. But, alas! Koong-dahl's lack of information of the school's food chain and the school's super cool dude, Jae-koo who is at the top of it, has Koong-dahl mistake Jae-koo as his prey. Naturally the tables are turned and Koong-dahl is challenged for a duel on the school rooftop.
| | |
| --- | --- |
| Audio Format: | DD 5.1, DD 2.0 |
| Video Format: | Widescreen 1.85:1 (Anamorphic) |
| Languages: | Korean |
| Subtitles: | English, Korean |
| Country Made: | Korea |
| Region Code: | 3 |
| Year Made: | 2006 |
| Running Time: | 103 |
| Special Features: | Commentaries, Music Video, etc. |

Availability:
Usually ships in 5~10 business days.