The Vampire Diaries, Book 1 - The Awakening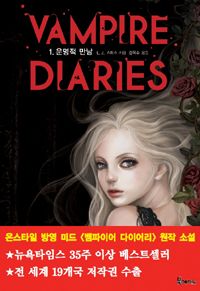 Product Description
Korean Title:
Vampire Diaries 1
Author: L. J. Smith
Translator: Ok-su Kim
Publisher: Book Aid
316 pages | 210*140mm
Important! Please read before you order!
>>>This book is written in Korean.
About This Book

A deadly love triangle

Elena: beautiful and popular, the girl who can have any guy she wants.

Stefan: brooding and mysterious, desperately trying to resist his desire for Elena . . . for her own good.

Damon: sexy, dangerous, and driven by an urge for revenge against Stefan, the brother who betrayed him.

Elena finds herself drawn to both brothers . . . who will she choose?

About the Author
L. J. Smith has written more than two dozen books for children and young adults. She lives in the Bay Area of California, but is happiest in a little cabin near Point Reyes National Park, which has lots of trees, lots of animals, lots of beaches to walk on, and lots of places to hike.


Availability: Usually ships in 5~10 business days.